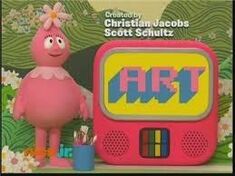 Art
is a season 2 episode of
Yo Gabba Gabba!
Mixing Colors
Don't Say Mean things to friends
Art Show
This is the only episode where Muno cries
Foofa gets frusterated with Muno because he spilled paint on her picture, but at the end, they're friends again.
Toodie's art was unknown what it was but Foofa said it was great.
But Muno is crying because when Muno spilled paint from her picture.
When Muno stepped and kicked paint from her picture, but Foofa says "Muno, AAAAAAAARGH!"
Andrew VanWyngarden was born in February 1, 1983. He was 25 years old.
Accidentally, when Muno spilled the picture, but Muno is crying.
But Muno accidentally walked and spilled the picture, but Foofa is angry!
Ad blocker interference detected!
Wikia is a free-to-use site that makes money from advertising. We have a modified experience for viewers using ad blockers

Wikia is not accessible if you've made further modifications. Remove the custom ad blocker rule(s) and the page will load as expected.