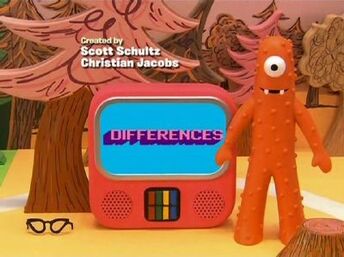 Differences is the 26th episode of Yo Gabba Gabba! and the 6th episode of the 2nd season.
Muno has to get glasses, while Brobee and Toodee learn that they should not say mean things to their friends, even if they look different.
This is the only episode where Muno wears Glasses
This is the first episode to have the "Don't be mean to your friends song". The second time was in Art.
This is the second time Muno knocked over Toodee's tower made of blocks. The first time was in Dance, & the other one was in Together, But that time it was Brobee's tower.
In the beginning of the "All My Friends are Different" Muno is not wearing his glasses.