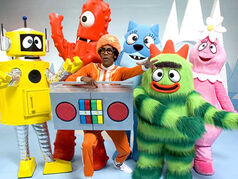 Summer Time!
Jump, Jump, Jump
Wait Your Turn
Fun
Using Our Bodies
Get the Sillies Out!
I Like To Dance
Theme Song
Ending Credits
The Freeze Game
I'm So Sorry
Head, Arms, Legs, Feet! Beaty Beat Clap Clap!
Hold Still
Naptime
Happy Thoughts
Find A Friend
It's Your Turn
Hands To Yourself
High Five!
Up and Down
Shake it Out!
Danger, Danger, Danger!
Don't Throw Things at Friends
Don't Be Afraid
Tiny Ugly Germs!
I Like Bugs
Don't Be Afraid, Don't Be Scared
Sometimes We Win, Sometimes We Lose
Hugs Are Fun!
I Am So Happy
The Leaves Are Falling
Trick or Treat!
Halloween
Too Much Candy's Going to Make You Sick
Hello Song
The Name Game
Magic Ball Friends
Goodbye
Hit! Hit! Hit!
Clubhouse
Balloons
Don't Bite Your Friends
Baby Steps, Big Steps
I'm So Excited
That's What Friends Are For
Robot Friend
Electricity
Winter Is My Favorite Season
Heart And Soul
We're The China Gabbas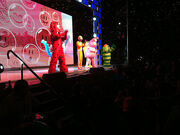 More Coming Soon!